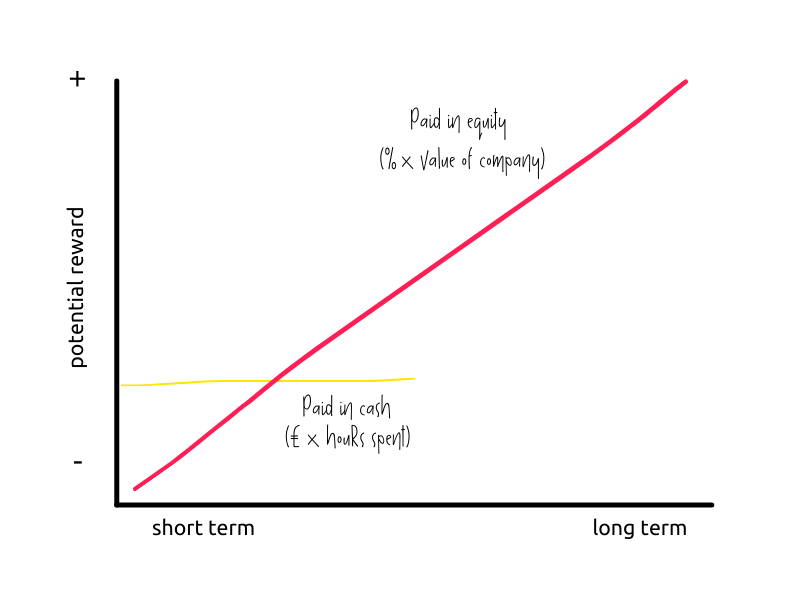 Sweat equity, what is it? Where can I get some?
Entrepreneurship
Talent Resource
Founder Resource
Sweat Equity
Search for a definition of 'Sweat Equity' and you'll find "The term sweat equity refers to a person or company's contribution toward a business venture or other project. Sweat equity is generally not monetary and, in most cases, comes in the form of physical labor, mental effort, and time."1
This is a good summary, but in practice sweat equity is so much more. It ties people together with a common goal. It builds trust, commitment and a strong foundation to form a long lasting business relationship.
In this article, we'll look at sweat equity from two perspectives:
the visionary with the business idea
the talent that joins the project to help make the idea happen
The visionary – where the idea originates
As visionaries (the project owner) we often don't refer to our time as sweat equity. We spend our time (unpaid) developing an idea because we're passionate about it, right? But let's start thinking of your idea as a business entity. Your 'sweat' (all the time you invest in your idea, including those caffeine-fuelled late nights) accounts for a percentage of ownership in the business. This is your sweat equity.
So as the project owner, you've invested in the idea by dedicating your precious time in exchange for equity. You're fully committed to developing your idea into a sustainable and profitable business. And you're passionate about solving a problem or bringing joy to the world with your idea. Wouldn't you want your long term business partners to share the same enthusiasm?
Sweat equity attracts your kind of people
It will take time for the idea to develop and the business to establish itself. You want people who are as committed to the project as you are. Giving equity attracts people who also believe in your idea. They have the same goal as you to make it a success. Sweat equity partners are fully invested because they share your vision, and are not being driven by immediate financial reward.
Sweat equity offsets the financial cost of building the right team
One of the top reasons for why businesses fail is the wrong team2. When it comes to finding investment for your startup, investors will want to see that your team consists of people with the relevant skill sets to move your business idea forward. Offering sweat equity share in your business means you get to bring onboard the right business partners from the get go, even when finances are at their most limited.
When does sweat equity make sense?
Sweat equity is best used to foster loyal, long lasting partnerships with people who have complementary skills to your own.
Visionaries will need to wear many hats in the early days of starting a business. You might find it difficult to see where your strongest skills lie and what skills you should be looking for in potential team mates. If this is you, ask yourself:
Where do I currently have clear gaps in my knowledge and experience for turning my idea into a business?
Thinking to the future, where are my skills limitations when it comes to taking the business further or scaling up?
At Sweqlink, we use a framework based on an ideology that three critical skill sets are typically needed to turn an idea into a startup business. Using this framework, visionaries can establish which set of skills, 'Makers', 'Movers' and 'Manifesters' they need to bring onboard.
The talent – who help make ideas happen
Why would you want to be paid in equity?
Imagine it's 1994 and you have the option of an hourly wage or equity for your commitment and work to help an online bookshop launch from Mr. Bezos's garage.
Under a typical salaried contract, you would be paid for your hours. It pays the bills but your deal ends there. You wouldn't be eligible for any future gains as a result of your hard work and contribution during the early days of the startup.
If on the other hand, you had accepted just 0.5% equity in this particular startup called Amazon, your equity would now be worth $8.5 billion* – that's a lot of payback for all your late nights and coffee!
* Based on Amazon's stock value at time of writing
Startups are risky. Why would you want to work for a startup?
Investing your time into a new startup can be very rewarding. It can help you achieve your career aspirations by broadening your skillset and network. It can provide a source of fulfilment alongside other 'pays-the-bills' jobs by offering new challenges, all while supporting a cause that you're passionate about. You're also more likely to have your voice heard and make a bigger impact working for a startup.
If you have aspirations to be your own boss or a C-Level executive but you don't have your own idea, getting involved with startups at the formation stage can often give you this opportunity. Offering your time in return for equity in a new business idea might be just what you're looking for.
When does sweat equity make sense?
As ideas take time to develop into financially stable businesses, investing sweat equity is a long-term commitment. For some startups, early returns on your investment may come in the form of job satisfaction. It could be the buzz from reaching each milestone such as the successful development of a working prototype, or positive feedback from early adopters. Real financial return could take years depending on the business model. In this common startup scenario, sweat equity only makes sense if you have other means to support yourself and your family.
Sweat equity side hustle
Second income streams (also known as side hustles, or moonlighting if you're from the 1980s) are increasingly common and practiced by more than 25% of the UK working population with figures set to rise3. There are a number of reasons why we are seeing this upward trend. Some of the rational motivations for pursuing a side project include additional income and building a nest egg for retirement. And more emotional motivations include the excitement of new challenges, sense of achievement and personal development otherwise not available in the 'day job'.
At Sweqlink, you define how much time you can spare to join a project. This could be 5 days a week or just a few hours a week so you can find a project that works with your livelihood, not instead of it.
Building a business relationship based on sweat equity offers clear benefits for both visionaries and talent partners. Find your future business partners at the internet's first sweat equity marketplace.
References:
1 https://www.investopedia.com/terms/s/sweatequity.asp
2 https://www.cbinsights.com/research/startup-failure-reasons-top/
3 https://assets.henley.ac.uk/defaultUploads/PDFs/news/Journalists-Regatta-Henley_Business_School_whitepaper_DIGITAL.pdf